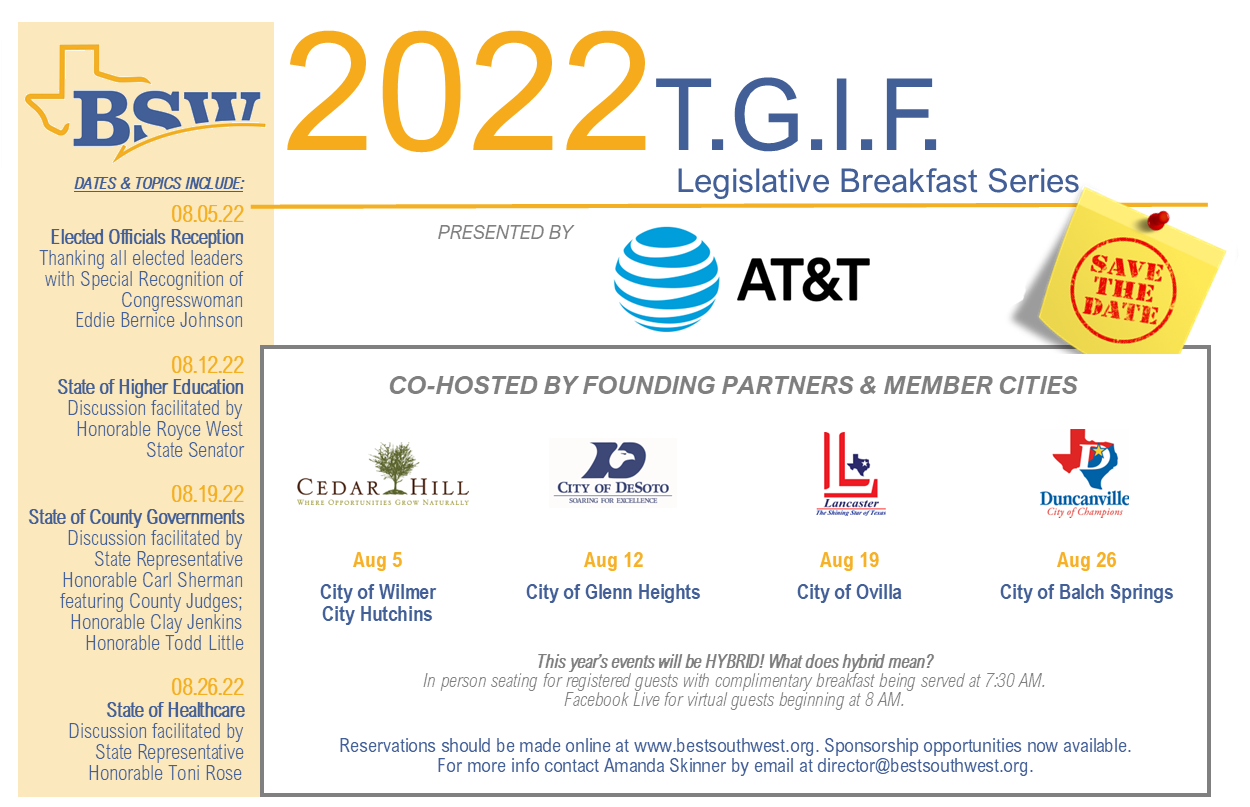 T.G.I.F. Legislative Breakfast Series
The Best Southwest Partnership is proud to announce the line-up for its 2022 T.G.I.F. Legislative Breakfast Series. Again, the always popular series promises to present 4 informative events.

The series occurs on Friday mornings in the month of August. This year each event will rotate locations to be hosted by each of the Founding Cities of the Best Southwest Partnership. New - Each event will be Co-Hosted by one of the associate member cities.
On behalf of the Board of Directors of the Best Southwest Partnership, we welcome you to join us. This year's events will be HYBRID! What does hybrid mean?

Limited in person seating for registered guests with complimentary breakfast being served at 7:30 AM. Registration required for in person guests for each and every breakfast due to COVID-19 Restrictions. Facebook Live for the rest of the world beginning at 8 AM.
If you are interested in sponsoring this important community event, please e-mail director@bestsouthwest.org
We are currently seeking Silver Sponsors for each event. What are the benefits of being a Silver Sponsor?
Recognition from podium at one chosen hybrid event
Reserved seating for 2
Display of company name at one chosen breakfast
Name recognition on chosen event publicity; website, and social media
Booth space during Aug 26 event ****
The number of Silver Sponsors is unlimited for each breakfast. If there is one of the following topics that aligns with your marketing strategy please consider signing up.
August 6 - Elected Officials Reception - An event thanking all elected leaders with special recognition of Congresswoman Eddie Bernice Johnson
August 12 - State of Higher Education - A discussion facilitated by State Senator, the Honorable Royce West
August 19 - State of County Governments - A discussion facilitated by State Representative, the Honorable Carl Sherman featuring County Judges; Honorable Clay Jenkins and Honorable Todd Little
August 26 - State of Healthcare - A discussion facilitated by State Representative, the Honorable Toni Rose
                 **** NEW THIS YEAR **** In conjunction with the Aug 26th breakfast, State of Healthcare, we will have a mini health fair                     open to the public until 12PM. Vendor booths will be included in the Silver Sponsorship Level for that event. Vendor Sign Up